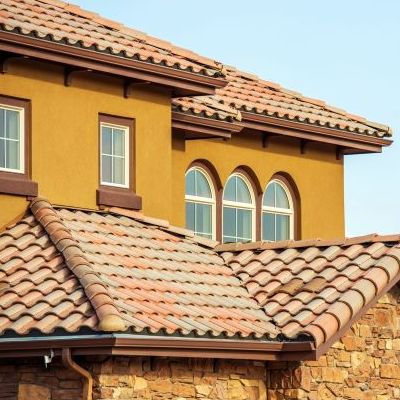 Get the Ceramic Roof you Want
Ceramic tiles have been a popular roofing material for a very long time. That's because many people see them as the perfect marriage of durability and beauty. Here at ECO Roofing, we have seen firsthand what ceramic tiles can do for a property. They can add an instant air of sophistication and elegance. They can also last for a very long time. Ceramic tiles are a very popular choice, which is why we offer a variety of ceramic tile roofing services including ceramic tile roof repair and ceramic tile roof installation in Biloxi & Gulfport, MS. Our team of roofing experts can have a brand new ceramic tile roof installed on your property in no time. The great thing about ceramic tiles is that they are not as heavy as some types of natural stone tiles. That means they won't put excess pressure on your roof and that they are a bit easier to install. If you are considering ceramic tile roof installation in Biloxi & Gulfport, MS, give us a call at (877) 406-7663.
Ceramic Tiles and Your Property
Maybe you are not sold on ceramic roofing tiles yet. Maybe you are considering them but want to know more about what they offer and how they can be a benefit to you and your property. If so, the following list may be of assistance to you:
Ceramic Tiles can be Energy-Efficient: Ceramic tiles used to come in a single color: terracotta. But these days, they come in all kinds of colors and the lighter ones can keep your roof and your entire property cool in the hot summer months.
Ceramic Tiles Look like Stone: If you have been pining over stone tiles like slate but don't want to pay out the nose for them, ceramic tiles offer a cost-effective alternative. The flatter ceramic tiles mimic the look of stone tiles very accurately.
Ceramic Tiles Come in Many Shapes: Modern ceramic tiles come in a variety of shapes so you can find one that matches your home or place of business perfectly.
Call For Service
Aside from repair and ceramic tile roof installation in Biloxi & Gulfport, MS, you can also hire ECO Roofing for complete ceramic tile roof replacement. Just dial (877) 406-7663 and talk to one of our friendly staff members!