Learn More About Roof Storm Damage
When the unexpected happens with a storm there can be many setbacks with roof storm damage situations. From hail, thunderstorms, snowstorms, high winds, and more there can be a range of impacts made to your roofing system that will require repairs and replacements. It's important that you get the help that's necessary in order for proper stability and security with your roofing system. Make sure to get in contact with your local roofing company and insurance when roof storm damages have occurred. Here is some general background information regarding roof storm damage that may prove of use to you in the meantime. As always with any emergency situation make sure that safety is in place before reaching out.
What causes roof damage?
Roof damages are typically made with harsh weather conditions such as high winds, hail, snow, and rain. Depending on the severity of storm conditions you may see permanent damages that can affect your roofing materials. What's more, constant exposure to certain climates like the sun can prematurely wear materials out.
What is mechanical damage to a roof?
Mechanical damage to a roof involves when the surface and its components are punctured, penetrated, or damaged in other ways.
How do I know if my roof has storm damage?
Roof storm damage can exhibit several signs that can include missing or loose shingles, peeling or curling shingles, chimney damage, granule loss, damaged fascia or soffit, and indoor leaks. With high winds, you can see flying debris causing cracks, punctures, dents, and more. Hail can also do the same and range in the severity of damages made to your roof based on how big hail and how strong the wind is.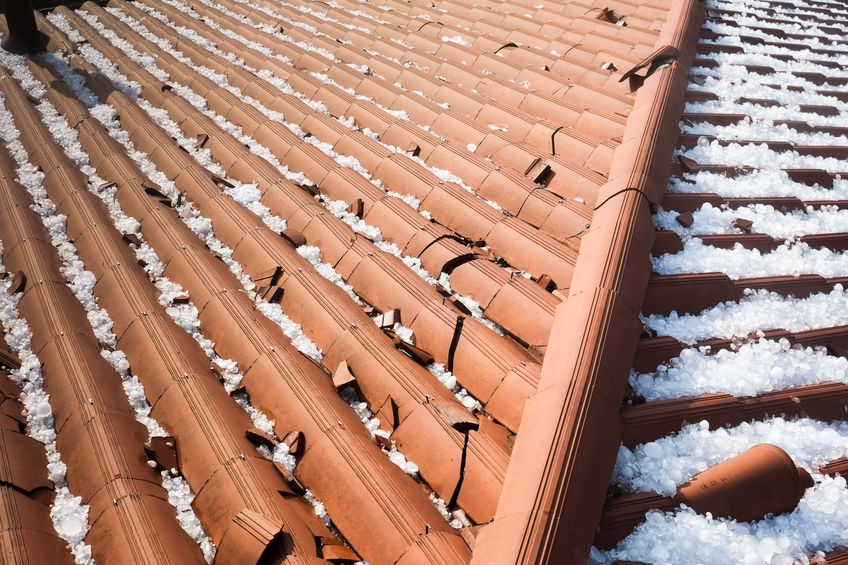 Signs of Storm Damage to Roof
Missing Shingles
Visible Granule Loss
Visible Water Infiltration
Loose Debris
Missing or Hail-Damaged Shingles
Clogged or Broken Gutters and Downspouts
Ice Dams
Damage to Roof Supports or Accents
Leaks
Fallen Tree
Damaged or Exposed Flashing
Does homeowners insurance cover water damage from roof?
A standard homeowner's insurance policy will cover roof storm damage as it is an unexpected circumstance. There may be certain exclusions with your policy to keep in mind such as with hail so make sure you're aware of what your insurance does and does not cover. If damages were caused by neglect and lack of maintenance your insurance will expect you to cover fixes. 
What are the signs of a leaking roof?
Usually, with severe conditions and vulnerable materials, you may have roof storm damage cause punctures, cracks, and expose underlayment to water. With a leaking roof, you may see signs both inside and outside of your property. Keep an eye out for water stains on the roof or on the ceilings of certain rooms. Walls and ceilings can wrinkle, expand, or appear to form large bubbles as well. With certain materials, you may see visible damages or missing materials. 
What does roof damage from hail look like?
Roof storm damage with hail will often involve broken or knocked off materials, cracks, punctures, loosened materials, dents, dings, and more. Essentially depending on the roofing material, you may see different damages. Metal for example will likely form dents and dings without being knocked off or broken. Asphalt materials can have granules missing, cracks, breaks, and other damages as it is a more vulnerable material. 
What size hail does it take to damage a roof?
Even if hail is smaller than an inch and the size of a quarter hail it can still cause roof storm damage on certain materials such as asphalt roofing. Depending on the size of hail and wind speeds you may see more severe damages made to roofing materials. It's recommended to get impact resistant shingles or implement premium roofing materials that can protect from such conditions.
Can 50 mph winds cause damage?
Winds can start to cause damages when they exceed 50-60 mph. You can have fallen tree roof damage when winds reach past 80 mph with even power lines falling at certain speeds. Winds can cause tree foliage to clog gutters and other flying debris to potentially damage your roofs.
Get Assitance With Roof Storm Damage With a Professional Roofing Company
If your property has undergone roof storm damage make sure to get the help that's necessary to ensure that your roof is being taken care of and restored back into good conditions. Only with a professional roofing company can you enjoy roof inspections and get help with making roof insurance claims. While roof inspections will compose of inspecting all vulnerable areas of the roof, help with making claims can make the processes of getting covered with repairs easier. Roof storm damage can cause many roofing problems down the line, get the help that you need fast with certified roofers today.
If you need help with roof storm damage in Biloxi & Gulfport, MS call (877) 406-7663 with ECO Roofing!