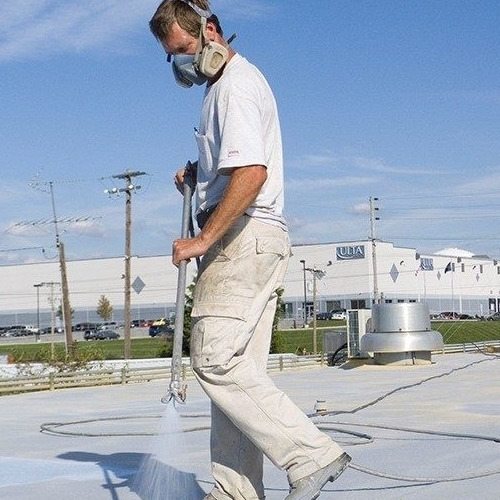 Common Issues With Aging Flat Roofs
Does your facility struggle with recurring roof leaks? Or perhaps its roofing system has sustained other forms of costly damage. If left alone, these problems can add up and create a need for more expensive roof work. At ECO Roofing, we offer a solution that addresses these issues head-on. When you need repairs, a flat roof restoration in Biloxi & Gulfport, may be the answer to your problems. For the majority of our roof restorations, we tend to use roof coatings. A flat roof coating system will strengthen your flat roof with a new, durable membrane that ends leaks. Plus it'll seal off your aging roof from the elements and turn it into a renewed, energy-saving asset! To request a professional roof assessment, call us at (877) 406-7663. One of our contractors will be glad to discuss how a coating system will save money.
Flat Roof Restoration Specialists
Unlike roof replacement, flat roof coatings will present you with the equivalent of a new roof, but with extensive tear-off and re-roofing costs. ECO Roofing is an expert flat roof coating applicator offering:
20+ years of construction expertise
The deep commercial roofing knowledge
Professional, factory-trained applicators
Leading-edge coating & waterproofing solutions
Roof coating systems with 35+ year reputation
Non-prorated, no-dollar-limit warranty options
A lifetime service guarantee on coating systems
Because they're sustainable and re-coated when needed, our flat roof coating systems present durable solutions for your roof troubles. Call us to schedule an appointment for seeing whether your flat roof qualifies for a coating system!
Why Roof Coatings?
Aside from greater cost efficiency over roof replacement, our roof coatings offer many other advantages:
Overcomes inherent flaws of flat roofing
Seamless, waterproof, and fully adhered
Class A fire resistance & Class 4 impact resistance
Can increase the roof's lifespan for years
Avoid leaks & condensation within the roof structure
Slow roof aging from resistance to UV damage
No fasteners or adhesives
Expands & contracts with changing temperatures
35+ year reputation for excellence nationwide
ENERGY STAR® certified
Reflects up to 85% of sun's rays
Can give up to 30% A/C cost savings per year
Non-prorated warranty options for up to 18 years
Commercial Roofing Contractor
Why Restore?
Coating applications will differ from flat roof to flat roof. After all, every roof is different. Each one comes with its own requirements and specifications. Plus it depends on the type of flat roof your facility has – coating applications will differ based on the roof type.
Call For Service
ECO Roofing would be glad to evaluate your roof's condition and answer any questions you have. Don't hesitate – contact us to request a professional roof survey and to discuss different possible service options! Call us today at (877) 406-7663 to request your flat roof restoration in Biloxi & Gulfport. We look forward to the possibility of earning your business.