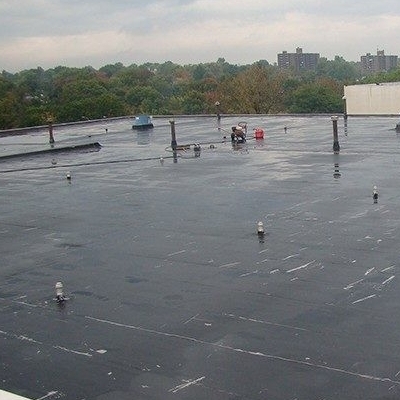 Restoring Rubber Roofs
Are you looking for a cost-efficient way to extend the life of your EPDM roof? There are other options besides a complete re-roofing project. ECO Commercial Roofing's rubber roof coatings help rejuvenate an EPDM roof's performance without the heavy costs of re-roofing. Call now or keep reading to learn more about our solutions for rubber roof repair in Biloxi & Gulfport! When applied, our coatings form a seamless, durable membrane over your existing EPDM roof. This barrier reinforces the existing roof structure, making it more resistant to damage from the sun, storms, and other hazards. Its "elastic" properties also let it stretch and contract with changing temperatures. To schedule an on-site evaluation of your EPDM rubber roof, call us at (877) 406-7663. ECO Roofing has 20+ years' expertise and would be glad to discuss how coatings offer value.
Rubber Roofing Issues
EPDM ("Ethylene propylene diene terpolymer") is a black, synthetic rubber roof membrane. It is applied to a roof deck with fasteners or adhesives. Rubber roofs offer great flexibility and durability over time, but like all roofs, they encounter trouble at some point.
Some of the more common issues are:
Ponding water
UV damage
Condensation under the roof membrane
Loose bonds
Membrane shrinkage
Prior repairs that aren't code-compliant
Blisters, bubbles & cracks
Membrane punctures & tears
Aging & weathering
Call us if your rubber roof has any of these problems or something else. You can count on ECO's 20+ years of expertise for the solutions you need!
Rubber Roof Coating Services
A rubber roof coating system can be the difference of thousands of dollars in energy savings. With its dark colors, EPDM absorbs tremendous heat, which can lead to accelerated membrane decomposition. When this happens, you need fast rubber roof repair in Biloxi & Gulfport. Our rubber roof coatings not only repair the surface of your roof but also guard against this while providing many benefits:
Reflects 80-85% of sun's rays (dark-colored EPDM reflects only 10%)
Forms seamless, waterproof barrier over the old roof
Resists cracking & ruptures with elastic properties
Class A fire resistance
Class "4" impact resistance
Avoid leaks & condensation within the roof structure
No fasteners, adhesives, or seams
Often doesn't require costly tear-off
Delays roof aging with UV resistance
ENERGY STAR® certified
May give 30% A/C cost savings yearly
Can be re-coated for renewed performance
Our rubber roof coating systems come with non-prorated, no-dollar-limit warranty options ranging from 10-18 years. When this period is over, the coating system can be re-coated for renewed warranty protection!
Rubber Roof Repair Estimate
With 20+ years expertise, ECO Roofing offers complete waterproofing & restoration solutions. Our team will avail you of your roof's condition and various options to fix its issues. We pledge an exemplary service experience and quality workmanship of the highest caliber. To request a professional roof assessment, contact us today. We look forward to the possibility of earning your business!
Call us now at (877) 406-7663 to schedule an appointment for quality rubber roof repair in Biloxi & Gulfport, or to learn more about how our roof coating systems save money.