Reliable Roofing Solution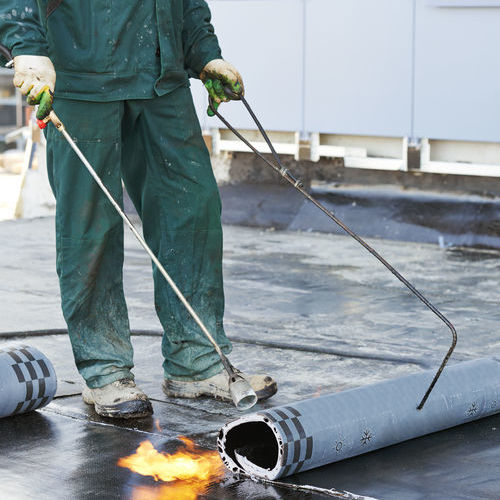 The roofers at ECO Roofing are here to offer modified bitumen roofing in Biloxi & Gulfport, along with other roof services that consist of installations, repairs, and maintenance. Since the 1970's, this roofing system has been supplying office buildings across the U.S. with sloped or flat roofs, offering strong security. There are two types of modified bitumen roofing, APP, and SBS, and our professional roofers are able to install, renovate, and maintain these roofs, guaranteeing we are able to take care of all of our customers. When you want a roofing system that is cost-effective, withstand outside elements, and is incredibly durable, a modified bitumen roofing system is an excellent option for office structures. Our roof business is ready to work with you to get you a greater working roofing system, so call us today at (877) 406-7663 for modified bitumen roofs in Biloxi & Gulfport, for a fantastic roofing system for office buildings.
Why Choose a Modified Bitumen Roofing System?
Highly Cost-Effective
Commercial roofing represents a big expenditure, especially as buildings get larger. Modified bitumen, thanks to its resilience and inexpensiveness, represents the premier selection for a lot of structures. Over the course of many decades, this roofing material has proven its unbeatable value for the money.
Durability
Modified bitumen roofing systems are comprised of sturdy material and require scant service or maintenance. A modified bitumen roof can actually go for two decades or more before you need to ponder replacement or restoration.
Adaptability
Modified bitumen roofing systems can serve in a large assortment of structures and climates. Our team can serve clients' desires for a final style, and adapt modified bitumen to fit any installation requirements.
Resilience
Roofs generally become exposed to punctures and rips as they become older. Thanks to its great resilience, this does not create such a serious trouble for modified bitumen. If you dwell in a region prone to hail, modified bitumen is a wonderful option.
The crew at ECO Roofing is the premier source for repair, service, and application of modified bitumen roofing in Biloxi & Gulfport. We are always prepared at (877) 406-7663 to answer any questions or respond to needs for service.
Contact Our Roofing Company for Modified Bitumen Roofing
Superior roof installation equals better performance and the roofers at ECO Roofing will supply installation that is always done properly. Roof services that include installation, maintenance, and renovations could supply commercial structures with more long-lasting security, and our roofers can accomplish this with our quality workmanship. By hiring licensed and experienced roofing contractors and using the proper tools and products, we are able to ensure that we can invariably install your modified bitumen roof correctly on your commercial structure. For amazing modified bitumen roofing that include installation, repairs, and maintenance, you are able to contact the licensed roofers at ECO Roofing to assist you. Contact our roofers now at (877) 406-7663 if you are wanting to schedule a consultation for expert modified bitumen roofing in Biloxi & Gulfport.