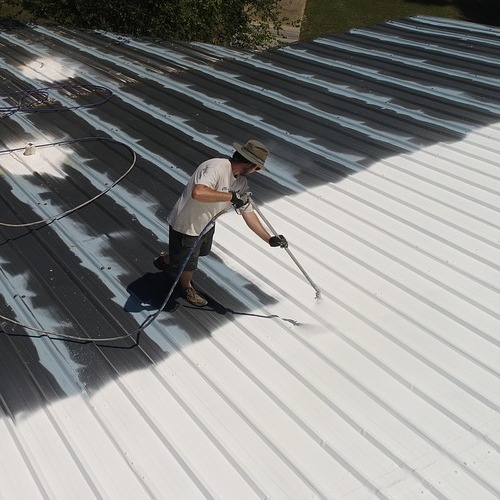 Giving you More Options
Today, there are more options when it comes to commercial roof repair. In fact, commercial roof coatings have advanced to the point that roof restorations are now a viable option for certain roofs. But if you don't know what roof restoration is, let us inform you. Traditionally, you would have to make all necessary roof repairs individually. This takes a lot of time and can be very costly. The cost of materials alone could be enough to break the bank. But with roof restoration, a single high-quality roof coating may be all you need to extend the life of your roof beyond its original expectancy. And here at ECO Roofing, we are roof restoration experts. We help home and business owners get the most out of their existing roofing systems without the time and hassle it takes for various repairs. For 20 years, we have been helping people in Biloxi & Gulfport, MS save money and rest easy, knowing that their roof is being given a second lease on life. Any way you look at it, a roof restoration is a great option if your roof qualifies. Find out how we can help by calling (877) 406-7663.
Why Consider Roof Restoration?
Another reason you should consider roof restoration is that it could negate the need for entire roof replacement. As you may already know or can imagine, roof replacement is expensive. It is labor-intensive, it takes a good chunk of time and it can be a big hassle. But this process can address the major issues of your roof and negate the need for replacement altogether. Mind you, even if you can have your roof restored as opposed to replaced in the here and now, you will ultimately need to replace your roof at some point. But restoration offers a reliable and affordable option if you are not quite ready for complete roof replacement. If you are interested in roof restoration and want to find out more about it at any time, just give us a call at (877) 406-7663 and our knowledgeable staff will be able to help you out.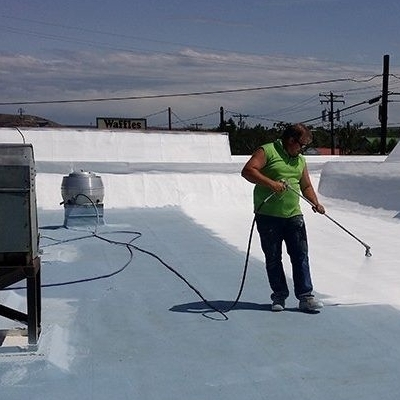 What Does Roof Restoration Involve?
At this point, you may be asking yourself what is involved in the process of restoration. First of all, it is important to note that not all roof restoration jobs are the same. Some may take more work than others.
Roof Restoration Process
In general, a restoration will involve one or all of the following:
Inspection: Every professional roof restoration job should begin with a thorough inspection of the roof in question. A professional inspection is really the only way to determine whether or not your roof is even eligible for restoration or not.
Small Repairs: This step may not be needed if either your roof would be better served being totally replaced or if your roof is relatively new. But in some instances, small non-invasive repairs may be made before the next step. Still, in other cases, some portions of the old roof may need to be removed and replaced before moving forward with the process.
Roof Coating: This is the meat and potatoes of roof restoration. Roof coatings fill in the cracks that make your roof vulnerable, add a layer of protection to it and fortify the existing roofing components. There are many types of roof coatings. For example, our company specializes in elastomeric roof coatings, polyurea roof coatings, rubber roof coatings and more. These coatings are sometimes sprayed onto the roof or specially adhered to and sealed to the roof.
Overall, the entire process of roof restoration takes significantly less time than roof replacement and roof repairs. When you hire ECO Roofing for roof restoration in Biloxi & Gulfport, MS, we can ensure that not only will your project be done on time, but that it will protect your roof for a long time to come. We use modern applicators and only the best coating materials in our restoration process. We also carefully examine your roof to determine which coating will work best.
Some coatings, like acrylic coatings, are better suited for climates that experience large temperature shifts. But some coatings, like polyurea, are better for when the job needs to be done quickly and there are minimal repairs that are actually needed.
Call For Service
In any case, it is important to be aware that not all roofs will benefit from restoration. Past a certain age, there is no getting around roof replacement. So be sure to have your roof inspected regularly and call ECO Roofing at (877) 406-7663 to find out more about roof restoration in Biloxi & Gulfport, MS.