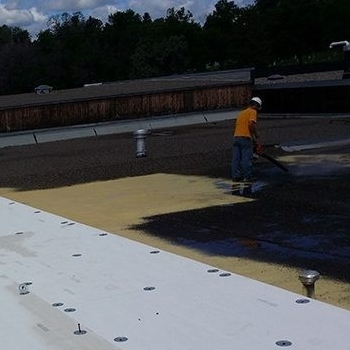 Defend Your Roof
Defend your existing roof system and its materials with silicone roof coatings. Applied by our expert silicone roof contractors, this coating gives your roofing system natural protection, strength, and water resistance, defending your property from damage. Environmentally friendly, this moisture-curing coat doesn't give off hurtful byproducts that may alter the area around your property. For all of your roofing system services and roof coating needs, ECO Roofing is the company to call. Our goal is to give you a roof you can count on, along with first-rate customer service, every time. Contact us at (877) 406-7663 to start on your silicone roof coatings in Biloxi & Gulfport today!
What Silicone Roof Coatings Do
For total protection for your roof, consider silicone roof coatings. Resilient and strong, this coating withstands storms and nature. Applied straight to your roof, this layer supplies strong UV resistance and deflects rays away from your property. This decreases energy costs and operates as a cool roof system. Silicone roofing combats sun exposure and preserves its original color, not like other coatings that chalk and discolor with exposure. Dealing with water damage and ponding are natural concerns of many roof systems. When a storm passes through, silicone roof coating functions as a membrane that combats water damage and ponding. Mold and mildew are also circumvented as they are unable to damage your roof materials. These roof coatings have an assumed lifespan of ten to fifteen years. Reapplication does not demand any intensive preparations on your roof. Roofing preparations commonly involve a power wash before the application of your new roof coatings. Your roofing system may find its perfect coat with silicone roof coatings and they are easy to apply, low maintenance nature.
Your Local Roofing Experts!
Whenever you need silicone roof coatings Biloxi & Gulfport, ECO Roofing is the company to contact. We provide quality roof systems that supply protection for you and your property. We are known for our professional installation practices and the customer service we give at every call. From roof coating to standard inspection, our team of licensed, knowledgeable professionals are on hand to help you and strengthen your roof. Call us at (877) 406-7663 to speak with our roofing contractors about your roofing system needs and roof coatings today!