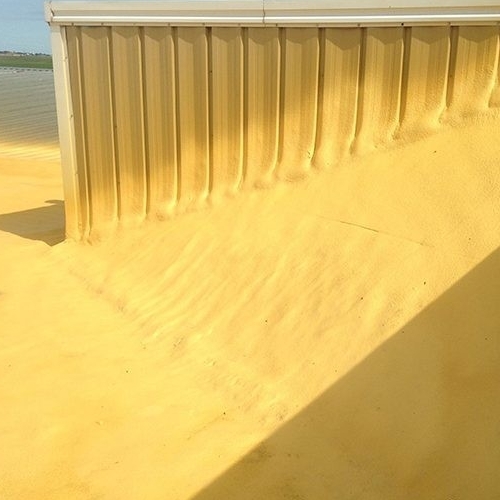 Foam Roofing Experts
Here at ECO Roofing, we consider it our job to offer our customers more options for both their home and commercial roofing systems. One of the reasons that we work with products like SPF spray foam roofing is because it is a tried and true system. It has been around for around 60 years and still represents an industry standard. It is one of the most reliable types of commercial roofing systems and it is incredibly durable. SPF stands for spray polyurethane foam. It starts out as a liquid and upon contact with a surface, expands into a foam. It cures very quickly, which means that you can install it virtually any time of the year, unlike other spray-on roof applications. It forms a protective layer on your roof that gets into all the cracks, crevices and other weak points of your roof and seals them up from the inside. Then it hardens to a protective shell that can potentially last more than 50 years. We have plenty of experience applying SPF spray foam roofing in Biloxi & Gulfport, MS and beyond. To get started with an SPF spray foam roof application, call us at (877) 406-7663.
Our Process
ECO Roofing is very meticulous when it comes to SPF roof application. Our process includes a thorough cleaning of your entire roof to make sure that no particles or contaminants interfere with the application. Then the spray foam is carefully applied to the entire surface area of the roof.
Once the spray foam has cured, we add a roof coating to it to protect it from UV rays and elemental damage. In the end, you will have a roof system that will be impervious to leaks, resistant to fire and one that can last for many decades to come. You can also hire us for foam roof repair. Our foam roof repair services are an affordable way to fortify your roofing system and breathe a little easier.
Call for Service
Give ECO Roofing a call at (877) 406-7663 when you are in need of repairs, installation or if you have any questions about SPF spray foam roofing in Biloxi & Gulfport, MS.