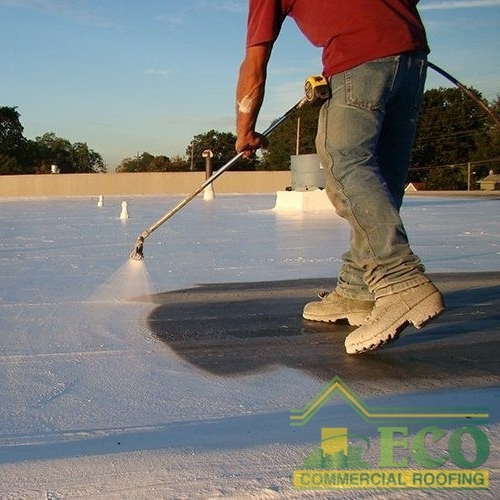 Fixing Flat Roof Problems
Flat roofs are somewhat standard when it comes to commercial building construction. They allow for maximum interior space and when built correctly, provide vital access to the top level of the building. But flat roofing is certainly not without its flaws. We here at ECO Roofing have been in business for over 20 years. We specialize in commercial roofing services of all kinds. We are very familiar with the most common vulnerabilities of commercial flat roofing. That is why we started doing flat roof coating a long time ago. Flat roof coating is a viable way to shore up the flaws of your flat roof and make sure it is doing its job.
ECO Roofing never glosses over the details in our flat roof coating application. We want to make sure that your commercial property is better protected than ever, once we are done. Flat roof coating in Biloxi & Gulfport, MS is just a smart idea because you never know what the weather could be like. It offers better leak protection than if you were to leave your flat roof unprotected and carries a Class A fire-resistance rating. Talk to us about flat roof coating in Biloxi & Gulfport, MS by calling (877) 406-7663.
How Flat Roof Coating can Help
A flat roof coating could help your commercial building in many ways including:
Slower Aging: UV rays can shorten the lifespan of any kind of roof. But the high reflectivity and coloration of roof coatings can slow the roof aging process.
Adaptive: Unlike other roofing materials, many flat roof coating materials are naturally pliable. This means they can adapt to fluctuating temperatures instead of being cracked or otherwise damaged.
Fixes Common Flaws: The problem with flat roofs is that they allow for pooling water and are susceptible to leaks. A proper flat roof coating will address these inherent flaws and increase your roof's lifespan.
Call for Services Today
You get all this and so much more when you hire ECO Roofing for flat roof coating in Biloxi & Gulfport, MS. We also offer repair services! We would be happy to answer all your questions, so call (877) 406-7663 today!