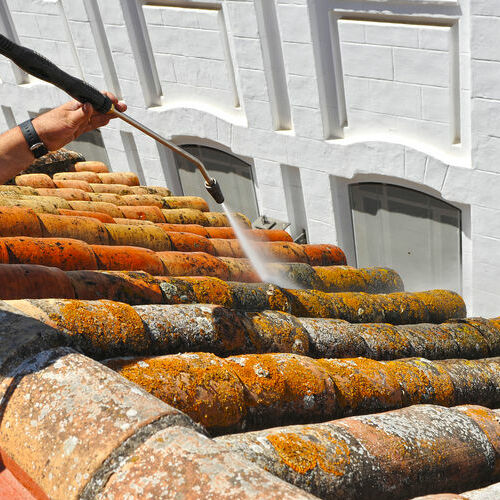 How Much Does Roof Maintenance Cost?
Repairing or replacing a roof can be expensive. Nationally, the average homeowner might pay over seven thousand dollars to install a new roof, and most homeowners in the United States spend between $5,206-$10,130. Repairing a roof costs significantly less, but it will depend on the material your roof is made with. The average cost for minor roof repairs ranges from two to three hundred dollars. Basic roof maintenance incorporates the cost of minor repairs, thus a property owner should budget approximately three hundred dollars a year, give or take, since some years, you might not need any repairs, and some years you might need a rather large investment in the life of your roof.
How Do I Prolong the Life of My Roof?
One of the best ways to prolong the life of your commercial roof is through commercial roof repair. Usually a full scale replacement of your commercial roof is not necessary when only a minor repair is needed. Minor roof repairs, when administered promptly, can prolong the life of your roof. Another way to prolong the life of your roof is through commercial roof washing. Many professional roofing companies perform this service. Usually commercial roof washing involves either a hydro pressure wash, or an alternative method called 'soft-cleaning.' Soft cleaning involves chemicals.
Prolonging the life of your roof is important. Home improvement projects like routine roof maintenance and hanging curtains are important. But how important is it to improve indoor air quality? You will need to factor in a priority list for your DIY project.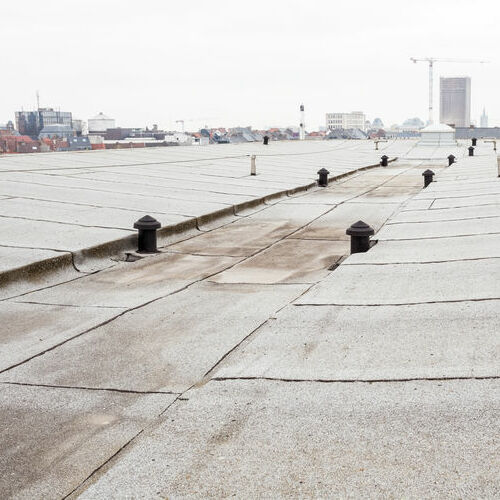 How Do I Know When My Roof Needs to Be Replaced?
Knowing when your roof needs to be replaced is an important part of the last cycle of your roof's life. There are times when a roof needs to be replaced despite there not being a large roof failure, which is actually a blessing in disguise. If your roof looks ragged, and with the advice of your roofing contractor, has lost much of its effectiveness, it's probably a good time to replace your roof. Every property owner should have a highly functioning roof.
If you have an asphalt shingle roof for your business, signs that you should get a new roof include curled shingle edges, cracked shingles, dark streaks, and finally, roof leaks. For commercial metal roofs and rubber roofs, signs of deterioration, disrepair, rust around flashing, and leaks are indicators.
How Much Does a Commercial Roof Inspection Cost?
As with many if not all roofing services, the material the roof is made of will determine the overall cost. Size, style, and location of the building all factor in. Some roofers offer free roof inspections, while others must be compensated for their time.
What to Do If Your Roof is Leaking?
If the roof on your property is leaking, it's time to call in a professional. Roofing leaks only get worse due to the accumulated pressure of rain water and gravity in a small opening. You will be able to tell if your roof is leaking due to a variety of ensuing signs. In the area of the roof leak, you may see a dry or wet dark water stain. The presence of water will either be immediately or latently available depending on whether it is raining outside.
Roof Maintenance Solutions
Roof maintenance is integral to the performance of your commercial roof. One of the ways you can provide maintenance for your roof is by clearing debris with a leaf blower or a broom. Trim any tree branches which may be close to your roof, as they likely will end up on your roof in one way or another. If snow impacts your area of the world, make sure that when the snow gets heavy — say a foot or more — carefully pull the snow off the roof with a snow rake. Snow rakes are available at most home improvement stores.
Roof Maintenance Checklist
This roof maintenance checklist will allow you to keep track of your roofing needs. Inspect your roof for signs of the following symptoms of disrepair or damage:
Missing, damaged or curling shingles.
Signs of algae or fungus.
Inspect metal areas for rust.
Examine the flashing around your roof vents to ensure that it is remaining intact. If not, it will need to be resealed.
Cracked mortar or caulking.
Roof Maintenance Services
Roof inspections go a long way toward accomplishing basic maintenance for your commercial roofs. You can schedule regular cleanings with your local, trusted professional roofing company, and thus become notified when there is the need for minor repair. Your professional roofing company will best know how to maintain and service your roof depending on the weather and climate of the area, and hopefully administer high quality materials and services for your commercial property.
Why Roof Maintenance is Important
Prolonging the life of your roof will save you time and money in the long run. By accomplishing basic tasks like regularly removing dirt and debris, either through the use of a professional roofing company or on your own, you can extend the life of your roof ten or twenty years.
Scheduling an appointment for your roof maintenance is easy. Our staff at ECO Roofing are ready to take your phone call at
(877) 406-7663. Discover more about what roof maintenance in Biloxi & Gulfport, MS can do for you!