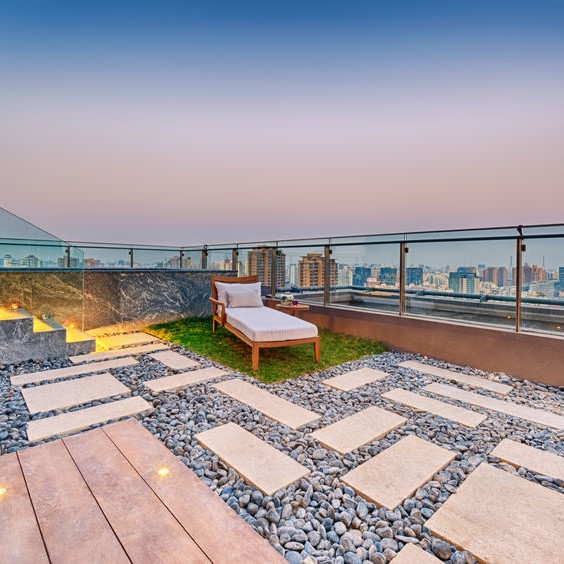 What does green roofing mean?
We when speak of green roofing today, we aren't necessarily talking about the color. Whether the roof is green, red, or some other color, isn't the topic of this piece.  Green roofing is referring to a roof top with a garden. A green roofing system has been around decades before it was referred to as a "system", as it was a normal way of housing in Europe and parts of the United States. 
Green roofing is the process of adding to an existing roof a way to grow vegetation on purpose, not algae, but plant life you can consume or simply enjoy. The plants are sometimes modular, or they'll have drainage layers, and they'll always have root repellent and waterproofing so that the structure is safe and can be damaged.
There are two green roofing options: extensive and intensive, each having a different utilization of the vegetation planted. The extensive green roofing supports up to twenty-five pounds and the intensive green roofing can hold as much as 150 pounds.
What do you need for a green roof?
The construction of green roofing will depend on various circumstances that can affect the difficult level. For a typical home, getting a professional evaluation of the endeavor to determine the structural capacity to hold green roofing is recommended.
There are five fundamental elements to green roofing. In some cases, one layer of green roofing can achieve more than one function. The elements concerning green roofing are:
A waterproof membrane
A root barrier
A drainage system
The growth medium
The plants
How green are green roofs?
Green roofing development is the creation of a contained green space on the top of a structure made by humans, separate from the ground as in the standard garden. Green roofing provides a range of private and public benefits and has been successful in other countries for decades, even centuries.
Do green roofs really work?
Green roofing technology provide the homeowner or commercial structure owner a proven ROI and opportunities for substantial economic, environmental, and social benefits. This is in particular an improvement in cities where the "urban island" heat element is prevalent. The green roofing benefits that can be expected are:
AESTHETIC IMPROVED: Urban green roofing has been promoted as an effortless and efficient strategy for beautifying the environment around buildings while increasing opportunity of investments. 
WASTE DIVERSION: Green roofing and waterproofing diverts contributions to landfills by extending the life of waterproofing membranes, thus reducing waste and recycling materials used in the growing medium. It also extends the life of HVAC systems by requiring less use for climate control. 
STORMWATER MANAGEMENT: Green roofing stores water in the substrate for the plants to use, as much as 70% of summer precipitation and up to 40% of winter precipitation. 
BALANCE URBAN HEAT ISLAND: Horizontal and vertical surface growing plants provide coolness from the daily dew and evaporation during the summer, thereby reducing the UHI (Urban Heat Island) effect. The UV rays are converted to energy as they are absorbed by the green roofing vegetation and reduces dust and particulate distribution throughout the city, minimizing smog production. 
AIR QUALITY IMPROVED: Green roofing captures airborne pollutants, atmospheric deposition, and filters noxious gases while reducing the demand on power plants.
ENERGY EFFICENCY: Green roofing provide energy efficiency with natural insulation, reducing the amount of energy to moderate the temperature inside a home or building.
ROOFING MEMBRANE DURABILITY increased: Green roofing decreases waterproofing membrane being exposed to temperature fluctuating that cause splitting and tearing along with UV radiation.
FIRE RETARDATION: Green roofing has a lower heat load.
NOISE REDUCTION: Green roofing provides an excellent noise reduction.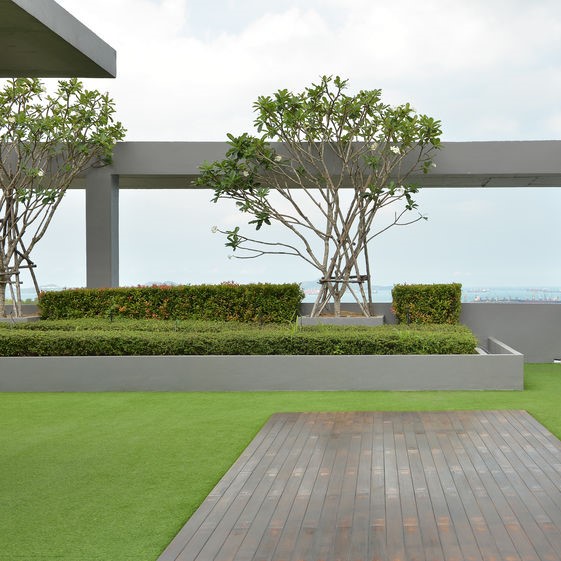 Do green roofs need maintenance?
Extensive green roofing will require some maintenance such as weed removal and fertilizing. It is recommended to inspect your green roofing 4 to 5 times a year to check for weeds and the drainage system, removing anything that could be blocking the drains.
If you're considering green roofing, congratulations! You're probably wondering with the expense of installing, how long does a green roof last? Well, in Europe, where green roofing has been commonplace for more than 60 years and they are still growing. So, will it be worth the efforts, financial, and time?
Absolutely!  If your green roofing is made of vegetables, imagine the savings on food costs in addition to the savings on the energy bills. Even on a commercial structure, green roofing with vegetables can serve as a community project, maybe donating the vegetables to a local soup kitchen or handing them to homeless on the street where soup kitchens can't accept unpackaged foods.  
Green roofing is an excellent place for employees to get some fresh air on those stress-filled days.  Fresh air, peaceful and relaxing, even if they are pulling weeds or plucking tomatoes, it is all part of getting back to nature. Call (877) 406-7663 today!