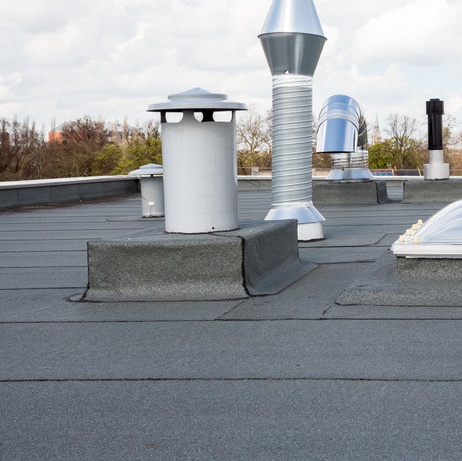 What is a Single Ply Roofing System?
Roofing a typical house is different than roofing a commercial structure, with the size of the roof being the first difference.  Most houses have sloped roofs with asphalt shingles. Most commercial structures have a flat roof have either single ply roofing or built-up roofing. 
Single-ply roofing comes in sheets of wide widths. Because of the wide widths and fewer seams that rolled roofing has, so there is less chance of separations and leaks. 
Single ply roofing can be installed with various system assembly types, each having benefits, membrane options, and more. Those various single ply roofing types are:
Ballasted: An economical choice with an easy and fast installation process, a chosen one by most single ply roofing contractors. Ideal for large open roofs.
Mechanically Attached: Considered an upgrade from the ballasted system, this is a lightweight, easy maintenance single ply roofing system.
Fully Adhered: This single ply roofing offers a high stability with uplift protection. Ideal for commercial structures built at a high elevation or in an area with high winds.
Metal Retrofit: This single ply roofing system will fully encapsulate an existing metal roof that is worn out and won't require the existing roof to be removed.
What is single ply TPO roofing?
The first sheets of TPO (Thermoplastic Polyolefin) single ply roofing products were introduced to the roofing industry in 1989. By the early 1990s, the fabric-reinforced sheets used in roofing commercial structures were introduced and still used today.
TPO single ply roofing membrane consists of a single layer of synthetics with reinforcing scrim. It is manufactured in sheets that vary between 10 feet wide, 12 feet wide, or 20 feet wide. The sheets are cut at the factory, rolled up, the delivered to the job site.
With a claim to 40% of the roofing industry, the popularity of TPO single ply roofing for commercial structures is partly because of the natural reflective surface it has for reflecting UV rays. As reported by the National Roofing Contractors Association (NRCA) TPO takes up about 40% of the commercial roofing market share.
What is the difference between TPO and PVC roofing?
The first difference is the PVC single ply roofing membrane has been around for over 30 years while TPC is the new kid on the block with only 20 years. Other differences are:
The chemical formula: The chemical for PVC single ply roofing systems are plasticizers and chlorine extracted salt that keep it flexible. TPO single ply roofing does not use any plasticizer, or any other materials that can break down over time.
The Cost: TPO single ply roofing is thought to be the less expensive compared to PVC single ply roofing, which by the square foot is accurate. However, with the installation costs factored in, the pricing is close to even or the PVC is sometimes cheaper.
The failures and problems: TPO single ply roofing has proven to have more problems in failing to hold up, even though durability is touted with the TPO product.
How long does an EPDM roof last?
EPDM single ply roofing is made from oil-based rubber material that can be easily applied to a flat, low-slope commercial roof. The biggest issue with installing EPDM roofing is the preparation of the roof, which an experienced commercial roofing contractor will know. With a good installation job, routine maintenance and upkeep with regular inspections, a EPDM roof can last 50 years or longer.
What is the difference between single ply roofing vs built up?
The difference is how the roofing is installed. Single ply roofing has been the standard go-to for decades on commercial structures as well as industrial, and manufacturing structures. Built-up roofing systems are built up on the job site by installing alternating layers of asphalt or tar with scrim (supporting fabrics). Many building owners with a tight budget will choose a built up roofing over a single ply roofing because they can control the cost with the number of layers installed.
What are the single ply roofing pros and cons?
When installing single-ply roofing, the contractors have some choices in the adhesive they use based on the environment, material, the structure, building code compliance, and weather. Every roofing job is different and different tools are needed for these jobs. They different types of single ply roofing adhesives a contractor will chose from are:
Solvent-based adhesives that is rolled onto the back of the membrane and the substrate, then the surfaces are put together.
Water-based adhesives are applied the same manner as the solvent-based, but without any solvent that causes odors with the solvent based.
Spray single-ply adhesives is new in the roofing market and is applied from a spray canister, saving time on installation.
Low-rise foam canisters is a 2-part polyurethane adhesive that is mixed in the canisters and a hose is attached.
The adhesives have their own set of pros and cons in addition to the pros and cons that single-ply roofing systems have themselves.
Adhered membranes don't flutter because air can't get under the membrane. Single ply roofing has a high wind uplift rating, ideal for structures on the coast lines or other areas with high winds.
Adhered single-ply roofing has better impact resistant when it is adhered to the cover board, then the membrane. This eliminates plates and screws being exposed and when any impact damage occurs, the mechanically attached screws and fasteners are easy to replace. .
Adhered single-ply roofing has a smoother finish compared to a mechanically attached roofing.
Adhered single ply roofing systems typically have a longer warranty.
The cons of single ply roofing are:
An adhered single ply roofing system is labor-intensive with extra fasteners sometimes required extra adhesives for membrane and substrate.
Requires experienced, trained crews with specific manufacturer's application recommendations.
A water-based adhesive has limitations on transportation, storage, and usage, requiring additional time and labor with warm storage.
Spray equipment for adhesives must be kept clean and in good working order to avoid clogs.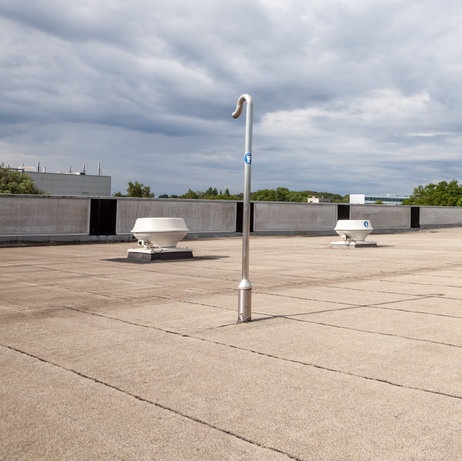 How much does it cost to install a PVC roof?
Pricing can vary from area to area and structure to structure. An average cost to have a PVC single ply roofing installed will run between $7 per square foot to $8 per square foot. The thickness chosen will also affect the install price. Call (877) 406-7663 today for your single ply roofing in Biloxi & Gulfport, MS.