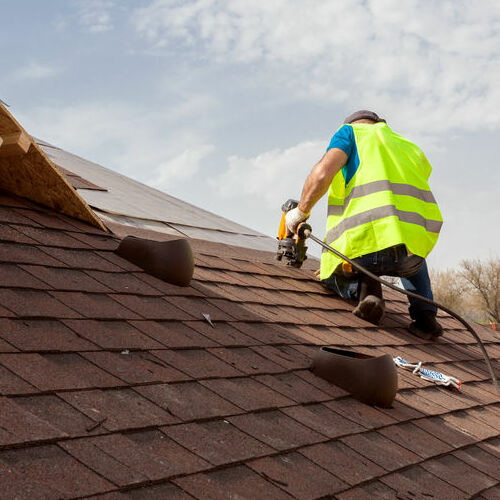 We Get Roof Installation Done Right
No matter what kind of contractor you hire, you need to know that the job will be done right. Whether you need a plumber to mend a broken pipe, a carpenter to fix your drywall, or a roofer to install a new roof, you need to know that the money you spend will work for you. This is especially true of residential roof installation in Biloxi & Gulfport, MS. The last thing you want to happen is a roof you had installed only 2 years ago to spring a leak. But that is exactly what could happen if you hire the wrong contractor. Here at ECO Roofing, we pride ourselves on getting the job done right. Not only are we familiar with all the local residential building codes, but we also follow them to a tee. We want to make sure that your roof will pass inspection and protect you, your home, and your loved ones for a long time to come. Find out how we can help by calling (877) 406-7663.
Skilled Roofers, Quality Materials
By using the best roofing materials on the market and putting them in the hands of the most skilled roofers in the state, ECO Roofing is able to ensure a remarkable finished project. Our job is not done until we are certain that we have installed a high-quality roof on your property, one that will last at least as long as it should and one that will be a source of pride for us and our customers.
We offer full-scale roof installation services. We don't pawn off work to subcontractors. We focus on residential and commercial roofing work only so that we can offer specialized services and handle all the work ourselves. We will put enough seasoned roofers on your project to make sure it gets done on time. We equip them with the most advanced roofing tools and equipment to further ensure that the job gets done right. From our foremen to our labor team, we are all committed to quality roofing. Give us a call at (877) 406-7663 when you are in need of residential roof installation in Biloxi & Gulfport, MS.
We Can Install Any Kind Of Roof
ECO Roofing knows that there are all kinds of homeowners out there, all with different tastes and concerns. That's why we have worked very hard to be able to install all kinds of residential roofs. Today, we offer the people of Biloxi & Gulfport, MS and the surrounding areas with more options than our competitors can. No matter what you have in mind, we will be able to bring your vision to life. Here are just a few of the kinds of roofs we can install:
Tile Roofs: Tile roofs don't just offer longevity and durability. They are also great at retaining their color and good looks. Tile roofing is a great investment and we can make every penny of that investment pay off for you with our tile roof installation services.
Metal Roofing: Metal-type roofs, like standing seam roofs, are becoming more and more popular with homeowners because of their durability and relative affordability. Rest assured, we can install a custom standing seam metal roofing system for your home too.
Slate Roof: Slate roofing offers unmatched durability. This natural material is resistant to mildew and fungus growth is flame-retardant and is not subject to termite damage. We can install a slate roofing system that will last you for decades to come!
Call Today
No matter what your roofing needs are, choosing to work with ECO Roofing is the best way to get a big return on your roof installation investment. Even if you choose a high-quality material like slate for your new roof, it won't mean anything if the contractors you hire aren't precise with the installation. We pore over the details at every stage of construction to ensure a secure, long-lasting and beautiful roof for our customers. Talk to us about residential roof installation in Biloxi & Gulfport, MS by dialing (877) 406-7663.