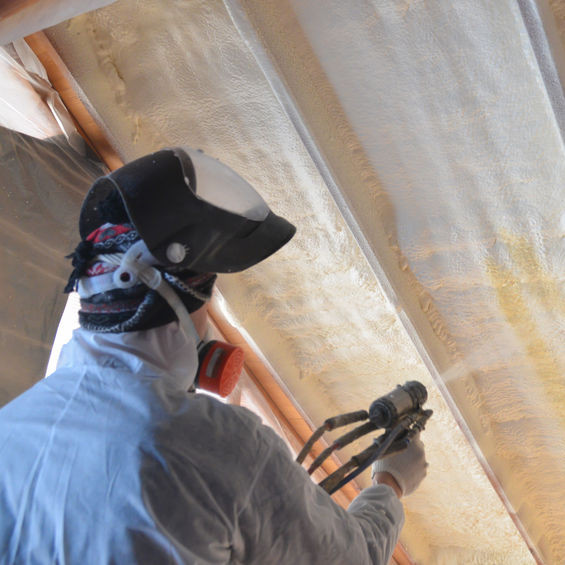 Spray Foam Insulation Services
A lot of people don't think of spray foam insulation and roofing being related, but just like a roof, this type of insulation can be used to make your home more comfortable and energy-efficient. We saw the need for quality insulation installation services here at ECO Roofing and we filled it. Today, you can call on us to install this type of foam insulation as a stand-alone service, or we can include it as part of our roofing installation and residential roof repair service. This insulation is really quite remarkable. It is essentially made up of isocyanate and polyurethane. And when you get these two substances together, an amazing chemical reaction occurs. These two substances rapidly expand and harden, making them ideal for quick, cost-effective home insulation. If you are looking to make your home more energy-efficient and save on your AC and heating bills, this type of foam insulation may be exactly what you need. It is a great investment so if you are ready to take the plunge, call us at (877) 406-7663 for spray foam insulation in Biloxi & Gulfport, MS.
How Spray Foam Insulation Could Benefit You
So what other benefits does spray foam insulation bring to the table besides enhanced home energy efficiency? Take a look at just a few of the ways that this type of insulation can improve your home or commercial building:
Sound Dampening: Open-cell spray foam insulation is wonderfully adept at muting sound from both the indoors and outdoors. That is because it is denser and has a sponge-like consistency compared to close cell foam insulation.
Sealing Cracks: This insulation is also capable of filling in cracks in your walls. It forms a formidable, air-tight seal that can keep air from seeping into or out of your home, which will save on energy bills. These seals also protect buildings from leaks.
Inhibits Mold Growth: This insulation is no friend to mold spores. It is impossible for mold to grow on the polymer that that this kind of insulation is made of which makes it a solid defense against mold growth in your walls.
Long-Lasting: Because this insulation is made of 100% synthetic materials, it can last for a very long time. This material can last up to 80 years. It also holds all of its insulating, mold-resistant and sound dampening properties for the duration of its lifespan.
Call For Service
ECO Roofing's foam insulation services will make sure that you reap all of the aforementioned benefits and more. We use modern equipment and take more than the necessary safety precautions in our applications as well. Contact us at (877) 406-7663 for spray foam insulation in Biloxi & Gulfport, MS.