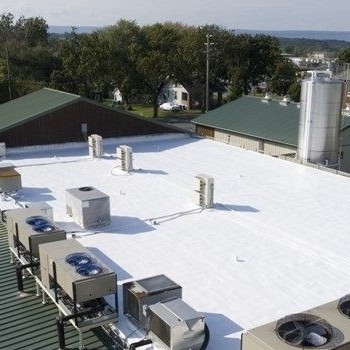 A Smart Roofing Choice
PVC is a smart choice for a wide variety of commercial buildings. PVC offers amazing leak protection and is one of the most durable of all single ply roofing materials. All of the seams are heat welded on a PVC roof and the bond is known to last for around 20 years. PVC is also an affordable material that is relatively easy to install. That means you save on both the material and labor costs. Here at ECO Roofing, we can provide you with all the PVC roofing services you will ever need. Our specially trained commercial roofing technicians will make sure that you get a roof that will last you for decades.
PVC roofing is also constructed of highly reflective and light colored material. These attributes can help you save hundreds of dollars a year on utility bills. If you want to know what kind of PVC roofing services ECO Roofing makes available to you, read on. If you have more questions about the merits of PVC roofing in Biloxi & Gulfport, MS, give us a call at (877) 406-7663.
PVC Roof Installation
Our expert PVC roofing services start with PVC roof installation. We are experts at assembling PVC roofing and we have all the top-tier equipment we need for efficient and powerful welding.
PVC Roof Replacement
Many people who have had a PVC roof previously installed opt for one again once the shelf-life of their old system has run its course. We can handle the removal of your old PVC roofing system and install a brand new one.
PVC Roof Repair
Not all PVC roofs are created equal. Some contractors don't put the same care and effort into PVC roof installation as we do. This can result in all kinds of complications. But you can count on us for fast and affordable PVC roof repair no matter what the problem is.
As you can see, ECO Roofing offers a full complement of PVC roofing services. We are the only company you will need to call for repair, replacement, installation or anything that has to do with PVC roofing in Biloxi & Gulfport, MS. Call us at (877) 406-7663 today!